PACKA-CHING provides incentive to its customer's by paying them market value for their materials. This is done via a cashless eWallet payment system, which is accessible on any cell phone via USSD or on the web. A user can make voucher-based payments at select merchants by simply punching in a voucher number at the point of sale. They can also purchase airtime on the USSD platform or transfer money to anyone in South Africa.
If you are interested in becoming a merchant, allowing PACKA-CHING users to spend in your store, click here.
Cashless mobile payments make earning money by recycling at PACKA-CHING easy and safe.
Users do not have to worry about the security risk that cash attracts and are able to send money around the country using their phone.
The only cost to the user is a 20c dial in fee for the USSD platform, no transaction or transfer costs!
No bank account needed
Users do not need a bank account to use the card
Instant payments
Users receive their money in real time
No ID required
Users do not need an ID to be issued their card
KILOGRAMS FOR RANDS = KILORANDS
INTRODUCING THE KILORANDS CARD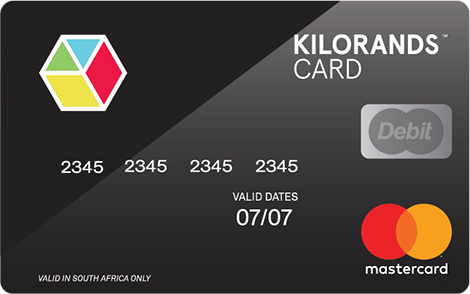 Quick Sign Up
Signing up is quick and easy
USSD function
Monitor balances & cancel lost or stolen cards
Accepted at all MasterCard outlets
Card can be used at any store accepting MasterCard